Why Join the Joliet Chamber
Our Chamber partnership is designed to serve as a support structure for the region's business community. The effects of this partnership are realized and made visible in our community through the volunteer efforts of businesspersons who serve the Chamber in various divisions, committees and special projects.
All Chamber members are encouraged to take advantage of this partnership and participate in our Chamber's many programs and activities.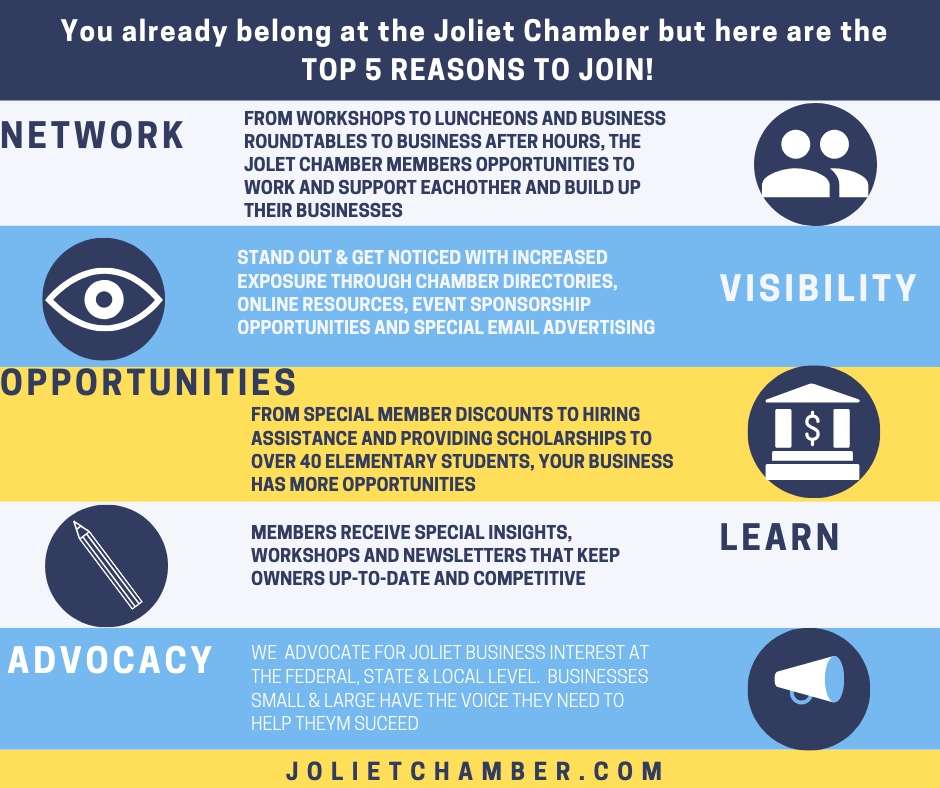 MEMBERSHIP BENEFITS
Chamber members are invited to explore the many resources available through our Chamber of Commerce to build better business relationships and increase business. The following benefits are available to all Chamber members.
Referral Service:
Our Chamber office receives thousands of telephone and mail inquiries each year. Requests for information are always passed along to appropriate Chamber businesses. We welcome all referral calls as we enjoy referring your business to the growing Joliet community!
Membership Labels, List & Disk:
Many Chamber members elect to use our expanding directory of member businesses to conduct personalized direct mail or telephone campaigns. By calling the Chamber Office, member businesses may request a copy of our membership directory in any of three formats: labels, listing or diskette (ASCII format). An additional fee is charged for this service: List $35, Labels $50 and Disk $75.
Committee Service:
Major functions hosted by our Chamber of Commerce are successful due to the volunteerism of Chamber members. We invite you to get involved on a planning committee to help us in our efforts. To name just a few, our Chamber enlists committee support in staging our annual golf outing, business-to-consumer and business-to-business expos, legislative affairs as well as many special recognition dinners and award ceremonies. Share your talents, expertise and ideas by joining one of our many planning committees!
Relocation Packets:
Our Chamber of Commerce assists prospective homeowners as well as numerous corporations in their efforts to relocate new employees to our community. Included in our relocation packets are materials reflecting the business and residential community: member lists of restaurants/lounges, hotels/motels, realtors/appraisers, medical facilities and practitioners, recreation/entertainment and communication/media outlets in addition to a host of other pertinent information. Packets are updated frequently with the latest information. We always promote member businesses in these packets.
Community Leadership School:
Our Chamber enjoys the benefits of strong voluntary leadership. Due to the immense growth of our community, there is a continued need to develop an expanding foundation of leadership. Excellence in leadership development is fostered through this program by increasing community awareness and involvement, discussing a "shared vision" for a better future and unveiling opportunities to develop valuable networks of resources. Enrollment in Community Leadership School is open to individuals from all organizations and professions. This program develops more effective, better-informed leaders for the Joliet Region.
Other Benefits:
Chamber membership is 98% tax deductible as an ordinary and necessary business expense. Through our Chamber, we are able to offer reduced-rate, long-distance phone service to our members. We accept VISA/AMEX/MasterCard and Discover for any/all payments.
BUSINESS GROWTH & NETWORKING
Joliet Region Chamber of Commerce & Industry members find they can grow their business significantly by becoming actively involved in the special events hosted by our Chamber. If you are looking to make great business contacts and establish lasting friendships, our Chamber is the place for you to invest your time and energy.
Following are key opportunities for members to expand their business network:
Business-After-Hours:
Each month the Chamber hosts a social gathering of our membership at a Chamber member's business. At these functions you have an opportunity to interact with Chamber Staff, Board of Directors, Ambassadors and fellow Chamber members. These events are usually held the last Thursday of each month from 5:00 to 7:00 p.m. Bring your business cards!
Member Breakfasts/Luncheons:
Our Chamber schedules a member breakfast or luncheon each month. The Chamber's goal is to recruit a noted speaker who will update us on business and community issues. Watch your Chamber newsletter, VISION, for details regarding any upcoming member breakfasts or luncheons.
Community EXPO/Business Doing Business After Hours:
Twice a year our Chamber organizes business EXPOS open to the community. Expositions sell out quickly due to the overwhelming interest in booth space. Our Business EXPOS are open to the public and attract large crowds. EXPOS provide unique exposure to the community and an opportunity to meet prospective clients face-to-face.
Golf Outing:
Our Chamber golf outing provides an excellent setting for you to "entertain" your business friends and clients. Our outing is a relaxing day of golf on a private course followed by dinner and conversation with Chamber friends/golfing legends in the clubhouse. Sponsorship opportunities are abundant for our Chamber golf outing. You may sponsor golf carts, holes, beverages, dinner, prizes and much, much more! Specific details regarding our golf outing are always published in the VISION newsletter.
Business Showcase:
A business showcase is an opportunity for new, newly renovated, new CEO or expanded businesses to host an open-house gathering of Chamber members. All business showcases will be promoted in our VISION newsletter and by special mailing in advance of their scheduled date.
Council for Working Women:
An affiliate organization of the Joliet Region Chamber of Commerce & Industry, the Council for Working Women works to advance the interests of women engaged in business, professions and service organizations. An additional membership fee of $45 is required for admission to the Council for Working Women. All working women are welcome to participate in Council activities, including lunches held the first Thursday of each month.
PROMOTIONS & ADVERTISING OPPORTUNITIES
Our Chamber of Commerce includes more than 1,500 business members. We strongly encourage Chamber members to conduct business with each other before reaching outside our membership to satisfy their business needs. This creates a business "web" that works to keep business strong in the community, especially among our own Chamber members.
You may elect to advertise your business through the following sources:
VISION Newsletter:
Published monthly, our Chamber newsletter is an excellent way to get your marketing materials in the hands of a dedicated audience. More than 2,500 copies of VISION are distributed throughout the community to member businesses and civic leaders. Each issue provides a complete activities calendar as well as information bringing you up to date on Chamber initiatives. We sell advertising space in VISION ranging from business card-size to full-page advertisements.
Chamber "Stuff":
Mailed monthly to the entire membership, Chamber "Stuff" is a collection of advertisements that various Chamber members have elected to distribute to promote their business. To be included in a Chamber "Stuff" mailing, simply provide the Chamber Office with 2,500 (subject to change) copies of your advertisement by the tenth (10th) of each month. A fee of $175 covers your inclusion in this monthly service.
Web Presence:
www.JolietChamber.com is an active website designed to promote our member businesses as well as inform the public of the many benefits and activities our Chamber of Commerce offers. Under the heading "Member Directory," Chamber members will find their organization listed according to business category with a map icon that will take viewers to directions leading to each business. Please visit our site and find your business friends on-line with us!
Chamber Kiosks:
Visit our Chamber Office and you will find three turn-about kiosks designed to hold your brochures. This is a free service we offer our members to help "circulate" their promotional materials. Visitors frequent our Chamber Office daily to obtain information on member businesses. It's to your advantage to have your business information available.
Community Profile/City Map:
Each of these publications provides an opportunity for Chamber members to advertise their business to the Joliet community and beyond. Space is limited in these publications and ad spots fill quickly. All Chamber members receive a community profile book and are encouraged to share them with their employees and clients — a great tool showcasing the outstanding business and residential climate of our community! Maps are distributed to Chamber members and area newcomers and provide an excellent resource for travel throughout the Joliet Region.
ADDITIONAL PROGRAMS
In addition to the opportunities and benefits already listed, the Joliet Region Chamber of Commerce & Industry strives to provide more to our members. Here are more programs that you as a Chamber member can take advantage of.
Ambassador Club:
On the first Wednesday of each month, the Chamber ambassadors meet for an update on what's been going on in the Chamber in order to help spread the word about the organization. Ambassadors assist the Chamber by delivering new member packets, calling on existing members and by greeting guests at various Chamber functions.
Joliet Area Young Professionals:
An affiliate organization of the Joliet Region Chamber of Commerce & Industry, the Joliet Area Young Professionals (JAYP) work to establish social and professional opportunities as well as identifying and satisfying the needs of professionals ages 21-40 in the greater Joliet area. An additional fee of $50 is required for admission to the Joliet Area Young Professionals. All professionals age 21-40 are welcome to participate in JAYP activities, including networking, educational programs, and community service.
New Member Orientations:
Held a couple of times a year, new member orientations are designed for new member representatives to become familiar with Chamber staff, programs, events, committees, and all other aspects of the Joliet Region Chamber of Commerce & Industry
Web Site Advertising and Web Site Linking:
If your company has a web site and you want everyone to know about it, then you should look into linking it to www.jolietchamber.com. This is a very easy process and extremely cost effective. For an annual fee of $25 we will place a hot link to your company web site. Also, banner advertising is available throughout the different sections and pages of our site.
Alianza de Negocios
Salute to Industry Dinner
Annual Awards Dinner and Celebration of Success
Washington Fly-In
Springfield Drive-Down
4th of July Fireworks
Teachers Breakfast
Referral/Leads Group
Seminars