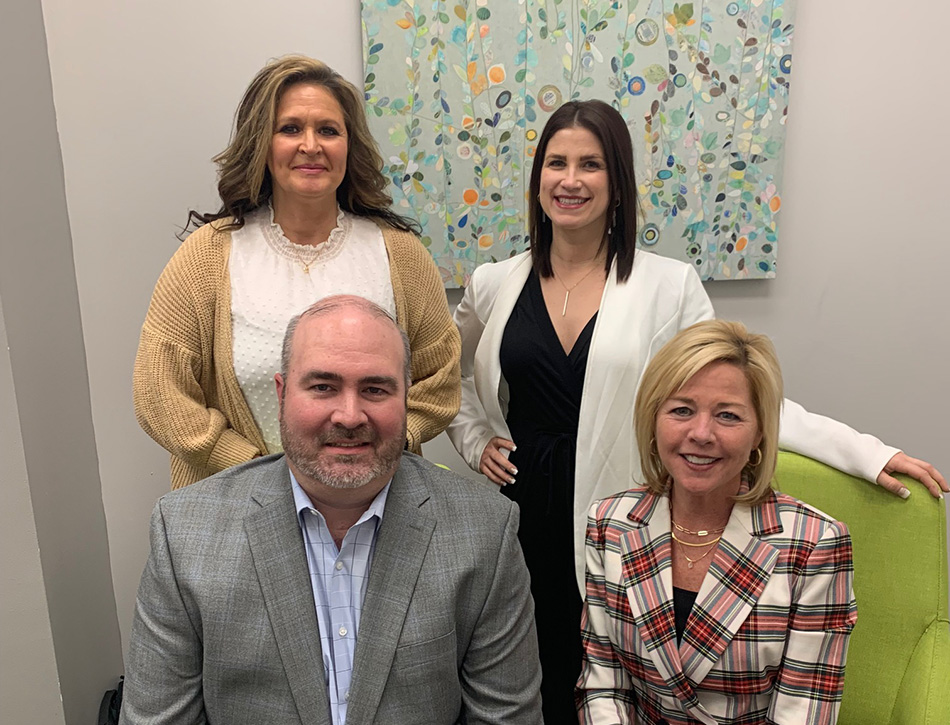 Joliet Region Chamber of Commerce & Industry
Serving as the Collective Voice, Initiating Action for the Betterment of the Entire Community.
About the Joliet Chamber
The Joliet Region Chamber of Commerce & Industry was incorporated initially in 1914 to serve as the collective voice force initiating action for the betterment of the entire community. The Mission of the Chamber today reflects these same goals: "to advance the interests of business, professional and service organizations in the Joliet Region, acting as their voice in governmental and social affairs, communicating and servicing their needs, and thereby enhancing the business environment and the local quality of life."
The Chamber's board of directors, elected by the membership, sets Chamber policy regarding all phases of the organization's internal and external programs. The day-to-day administration of the Chamber is carried out by a full-time, professional staff. Member businesses work together through the committee structure to carry out the goals and objectives set by the directors.
Diversity and Inclusion Statement
As an advocate of the regional business community, we recognize that addressing the evolving demographic changes in our region is fundamental to the growth and sustainability of our Members.
Creating an inclusive environment that engages individuals reflective of the full spectrum of our region strengthens our organizations and is a key to the success of the Joliet Region as a whole.
To that end, the Joliet Region Chamber of Commerce & Industry promotes inclusiveness and equal opportunity for all in its leadership, staffing, policies, and practices, and encourages all of its member businesses to do likewise.
Updated W-9 Form
The chamber office will be re-locating on March 1, 2021. Here is an updated W-9 form with our new address for those that annually request
Athena Award Nomination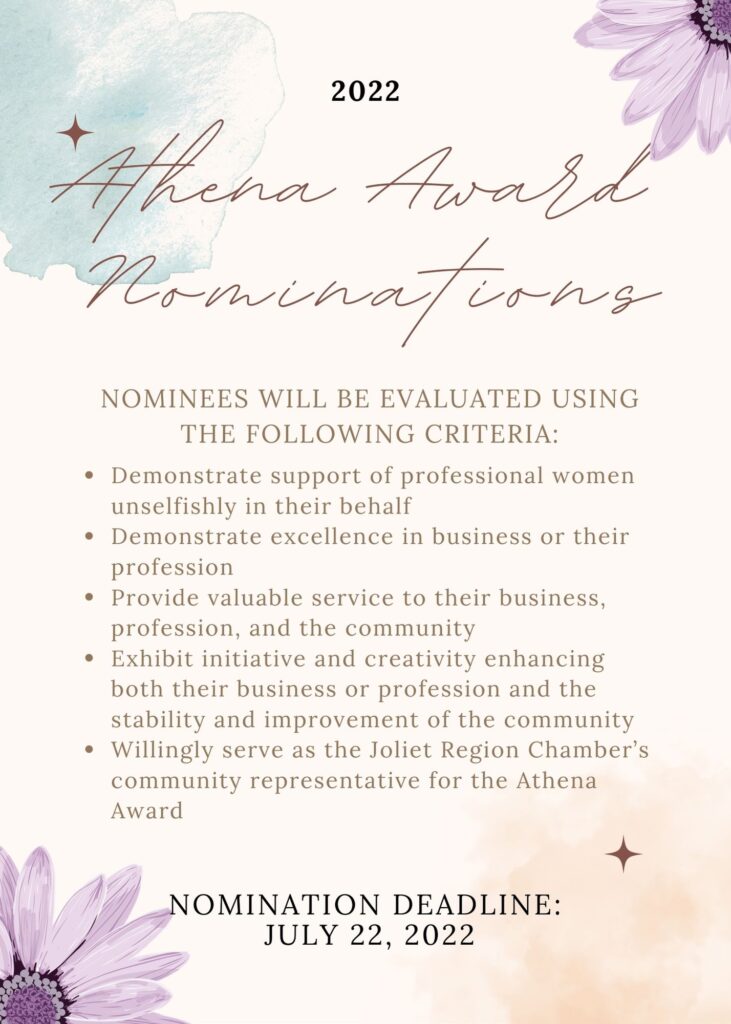 Nominations for the 2022 award are due by July 22. You may access the nomination form here.
Joliet Region Chamber of Commerce & Industry Staff
Jen became President of the Joliet Chamber on April 1, 2020. She was born and raised in Joliet and was no stranger to the Chamber or the Joliet business community as the owner of the TCBY in Shorewood, Il and a member of the Chamber's Board for the last four years, two of which she served on the executive board.
Prior to TCBY, Jen was the owner of two temporary staffing companies managing over 20 million dollars in sales. Jen has proven herself to be a successful entrepreneur and executive with consistent abilities to lead organizations and achieve growth in sales, marketing , community relations and operations. She has a proven record of building strong relationships with client companies, community partners and teams of employees.
She serves on several local boards including Joliet Junior College Foundation, Rotary Club of Joliet, Rialto Square Theatre Foundation, Joliet Area YMCA, and Illinois Partners for Human Service. Jen and her husband Vic enjoy travel, fitness, golf and family time.
Lisa is the Vice President of Finance. She is in charge of all financial aspects of the Chamber and its subgroups. She manages the database, handles billing, and administers accounting; both accounts payable and receivable. Lisa is passionate member of both the Council of Working Women as well as Business Builders. For any questions regarding general finances, Council of Working Women, or Business Builders, Lisa is the perfect person to contact.
Lisa loves to read, especially about health and ways to live a healthy lifestyle. She enjoys a multitude of activities, music, and movies: her favorites can generally be classified by what makes her laugh the loudest or smile the widest at the moment. Her nieces and nephew are dear to her heart and she loves spending time with them. Lisa is devoted to her loving dog Almond, a gorgeous Mastiff Mix.
Mike is the Vice President of Government Affairs at the Joliet Region Chamber of Commerce and Industry, the largest and most active Business Organization in Will County. Mike has worked with numerous businesses and organizations in the Joliet region to help increase their awareness and bottom line through various member benefits and opportunities. Mike is the co-creator of the Joliet Area Young Professionals (JAYP), the African American Business Association (AABA), and the Joliet Region Food & Beverage Association (JRFBA). Mike is also the ex-officio leader of the Chamber Ambassadors, a volunteer group of 40 plus Chamber members.
In his new role as Vice President he has become more involved with legislative and community affairs; planning governmental lobby trips to the State Capitol and Washington DC, in addition to city government relations. Currently Mike serves on the executive board of the Illinois Association of Chamber of Commerce Executives Board, a past Regent for the U.S. Chamber Institute for Organization Management and is a 2008 graduate of the program (IOM designation). Mike is a 2001 Joliet Chamber Community Leadership School graduate, United Way of Will County board member, Cornerstone Services board member, Workforce Investment Board of Will County board member, member of the Joliet Kiwanis and Rotary clubs, past board member of the Joliet Catholic Academy Alumni Assoc., and many other committees. Mike received his Bachelor's Degree from the University of St. Francis in Joliet, Illinois and currently resides in Joliet with his wife Carleen and two sons Brandon & Alexander.
Sarah joined the Joliet Region Chamber of Commerce & Industry staff in October 2021 following a year of working for Ulta Beauty, the largest beauty retailer in the United States. At Ulta, Sarah focused on maintaining relationship with national, regional, and local nonprofit organizations, and provided support to various community relations programs and fundraisers. Sarah, a Joliet-native, is most known in the community for her time spent at Chicagoland Speedway and Route 66 Raceway. During her time there, Sarah held a number of different roles and covered a wide variety of disciplines ranging from communications, public relations, and marketing to nonprofit management and community engagement to event development and more.
Sarah also acted as an adjunct professor in Sports Management at her alma mater Lewis University. Sarah received her Master's Degree in Organizational Leadership in 2018 and her Bachelor's Degree in Mass Communication in 2014 both from Lewis.
Sarah has served on the United Way of Will County's Impact and Investment Council and was a member of the Will County Humane Society board. Sarah is an avid dog lover and spends much of her time with her rescued lab-mix Leah.