Instilling the importance and value of being a Chamber member and promoting a professional image.
The Ambassadors are a group of volunteers who help the chamber through various activities. Duties include in person delivery of New Member packets, calling on existing members prior to membership renewal date, and greeting at various functions such as Business After Hours, Business Showcases, and Ribbon Cuttings. The Ambassadors meet at the Chamber office the first Wednesday of each month at 8:15 a.m.
The mission of the Joliet Region Chamber of Commerce Ambassador group is to retain our existing members, welcome new members, instill the importance and value of being a Chamber member and to promote a professional image to the entire business community.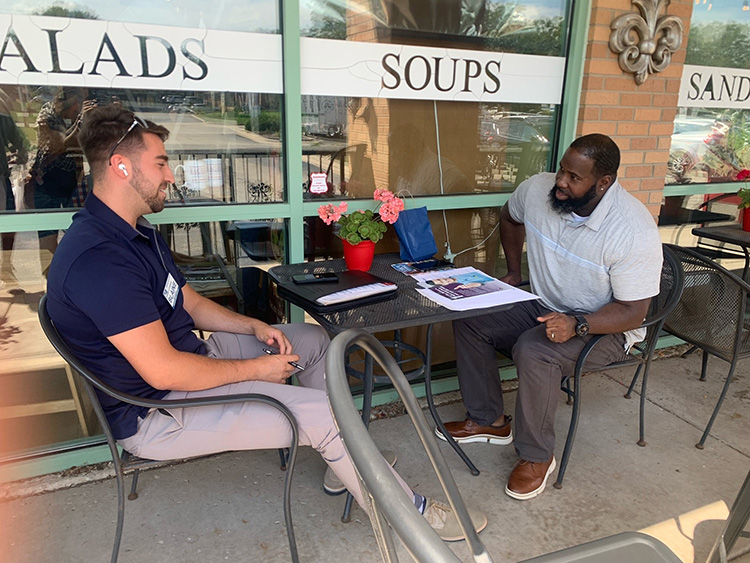 Interested in Joining?
If you are interested in joining the following volunteers and promoting your business while aiding the chamber
Please contact:
Mike Paone
Executive Vice President
mpaone@jolietchamber.com
815.727.5371
Ambassador Agreement
Each Chamber Ambassador is asked to sign an agreement that outlines their duties in this capacity.
Joliet Chamber Ambassadors
Ms. Madi Brown
Hometown National Bank
Ms. Cleopatra Cook
Cooks Consulting & Associates
Mr. Gary Fuqua
Discount Technology Workforce
Mr. Tom Grotovsky (Chair)
Great American Bagel
Ms. Melissa Helfert
Will County Lodging Association
Mr. Mark Hornung
Edward Jones Investments
Mr. Scott Jarus
Window World of Joliet
Mr. Mark Koenig
The Koenig Group - Real Estate Services
Ms. Carla Liburdi
Contractors Association of Will & Grundy Counties
Ms. Jaime Manjarez
Primerica - Faith Family & Finances
Mr. Blaine Meadows
Hudson Energy Services
Ms. Kate Meehan
Heritage Corridor Convention & Visitors Bureau
Mr. Shamill Muhammad
SG Marketing
Mr. Jim Murray
Signs By Tomorrow
Mr. Chris Osterfund
First Midwest Bank
Mr. Bill Rooney
Trader Magazine
Ms. Michelle Sebasco
Governors State University
Mr. Scott Segobiano
Edward Jones
Mr. Jim Slacke
Jim Slacke Insurance
Mr. Matthew Wilson
City of Joliet
Mr. Howard Wright
State Farm