History
the Joliet region has enjoyed the benefits of strong voluntary leadership since it's founding in 1852. As the region continues to experience commercial and residential growth, there is a continuing need to develop an expanding foundation of leadership. Our future demands the development of skilled, committed leaders who understand the region's strengths and needs.
Patterned after community leadership programs across the country, the Joliet Region Chamber's Community Leadership School will celebrate its 42nd "class" in 2020.  Each year, the program has grown and changed, seeking to stay abreast on the latest issues, trends and challenges facing our region.
Participants
Enrollment in the Community Leadership School is open to individuals from all organizations and professions. The main criterion is a willingness to become involved in community leadership.  The maximum class size is 40 participants.  Seats fill quickly so do not delay!
Organizations are encouraged to sponsor promising young executives, new managers and other individuals who want to make the Joliet area a better place to live. Participants gain a broad understanding of the concerns and activities of governmental bodies, agencies and organizations serving the region.
Sessions
The sessions for the 2020 Community Leadership School will be held from January through March.  During this intensive 10-week period, students will hear from and interact with a panel of guest speakers from area businesses, government, education, labor and community -based organizations to discuss a variety of current events. A continental breakfast is served at each session.
Students will be required to participate in an in-depth, team project for a selected non-profit agency. The project will require additional out of class time and participation. Presentation of group projects will be made after during the final class meeting.
Schedule
Every Wednesday beginning on January 15 through March 18 from 7:30 AM until 9:00 AM
The project presentations and graduation banquet will be held on the final day.
Sessions will meet at various locations throughout Joliet. This will provide an additional opportunity to become familiar with Joliet's business community. Locations will be announced in the confirmation packet provided to all participants.
http://jolietchamber.chambermaster.com/events/details/2020-community-leadership-school-5653
Topics
Each Session is designed in a panel/presenter format. Specific issues and topics concerning the Joliet/Will County area are selected for study.
How To Effectively Network Learn how to effectively network by a Dale Carnegie veteran. Leadership Assessment An evaluation of ones self to help define possible leadership productivity and personality style. Region In Transition City and County perspectives from local leaders. Leadership & Community Engagement The public good through community engagement depends on leadership. Ethics In Responsibility Learn how to judge situations and make the best decision possible. Education & Business Gain multiple perspectives from a panel of educators on how the future generations will be prepared for business. Springfield Legislative Drive Down An excellent way for CLS participants to address legislative leaders on issues that have direct impacts upon Will County. Personal Leadership Skills Retired Coach Patrick Sullivan shares a motivational perspective on the how's and why's of successful leadership. Building on Joliet's Excellence Enjoy our very own bus trip around town discussing our past, present and future!
Invitation Letter
To Employer of Future Community Leader:
I wanted to reach out to you to personally invite you to consider sending one or more of your valued employees to the next Community Leadership School offered by the Joliet Region Chamber of Commerce.
As a 2002 CLS graduate, a planning committee member of the school for 15 years, the current committee chairperson and the 2016 recipient of the Marx Gibson Community Service Award, I am, to say the least, a BIG fan of the school.  I am proud to be associated with something that is building and developing the future leaders of our community. 
For our 42st annual class offering, we have challenged our committee to bring additional features to our programming to further develop the future community leader(s) on your staff.   Some of the enhancements include personal development opportunities with a DISC assessment and a day trip to Springfield to experience our legislative process at work first hand.  Also, we have brought back our Joliet area bus trip and we continue to improve on our service project initiative. 
We understand that participation in a 10 week course may be difficult to allow an employee to be away from your worksite.  However, we are mindful of that as we have schedule the classes just one day a week from 7:30-9:00 am so as to impose minimally on your work day productivity expectations.  Beyond that we can assure that the opportunities for personal and professional growth are tremendous which should make for a more enriched employee.  Please keep in mind that they will be promoting your business as they network with other participants, community leaders and service agencies that they will be exposed to and working first hand with.
Take your time reading through the enclosed brochure and please reach out to me to ask any questions or provide any thoughts about our program.  We hope to have your company represented at our next class beginning in January, 2020.
My best regards,
Kim A. Cunnea
2019/20 Community Leadership School Chairperson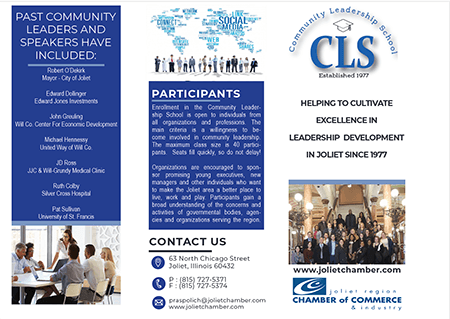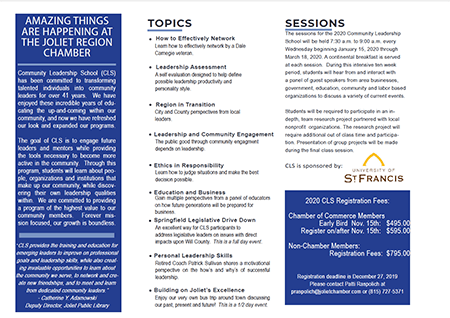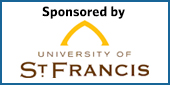 More Information
Contact:
Patti Raspolich
(815) 727-5371 praspolich@jolietchamber.com
Mission & Purpose
The mission of the Community Leadership School (CLS) is to help develop excellence in leadership development.
CLS is designed to:
Develop responsible community leadership.
Foster community awareness and involvement among talented individuals who display leadership leadership potential.
Develop a "shared vision" for a better future.
Provide participants an opportunity to develop valuable networks of resources.
Guarantee a strong corps of volunteer leaders for the Joliet Region.