The Joliet Region Food and Beverage Association (JRFBA) has been established after interest surfaced about forming a strong and unified voice from the food and beverage industry in the Joliet region due to the devastating impact of the COVID-19 pandemic.
The mission of the JRFBA is to bring leaders from the food and beverage industry together to collaborate, share best practices, advocate for industry needs and priorities, and drive economic growth. The JRFBA believes that a growing and innovative food and beverage industry is vital to a prosperous Joliet region.
Chamber leaders began meeting with the group after the first of the year and have been meeting since then to finalize the overall goals and impact of their vision. The JRFBA will be open to chamber members and non-members just like current sub-group structures. A board of directors will meet on a monthly basis to ensure the mission of the group is being carried out through various programs and events for their members.
As the mission states, the main areas of focus for the newly created group will collaboration amongst owners and managers, the sharing of best practices within the industry, advocacy, and assisting with ensuring economic growth
"All of those involved in running an establishment know quite well both the challenges and enjoyment that come with being in the industry. This group will bring individuals together to form bonds, use our resources to tackle tough issues, unleash talents, and support all in away that we can collectively rise to the top of our profession."

– Tom Grotovsky
The Great American Bagel and The Unforgettable Chef©.
The Joliet Region Food and Beverage Association is a division of the Joliet Region Chamber of Commerce & Industry. The JRFBA was established in October of 2021. Membership is open to all regardless of type of business. The group will hold informative programs covering various topics of importance to group members on a monthly basis. Social and special events will also take place throughout the year.
November Program Information
Join us for a presentation by Mike Hernandez, the Director of Marketing and Creative Services at Joliet Junior College. He is responsible for an award-winning staff that advertises and promotes JJC's brand and value proposition.
The November program will be "Marketing Trends for the Food & Beverage Industry" featuring a discussion on some must do tips and important resources.
Wednesday, November 17, 2021
10 AM to 11 AM
Al's Steak House
1990 W. Jefferson Street
Joliet, IL. 60435
Register here: http://jolietchamber.chambermaster.com/events/details/2021-food-and-beverage-association-november-program-6139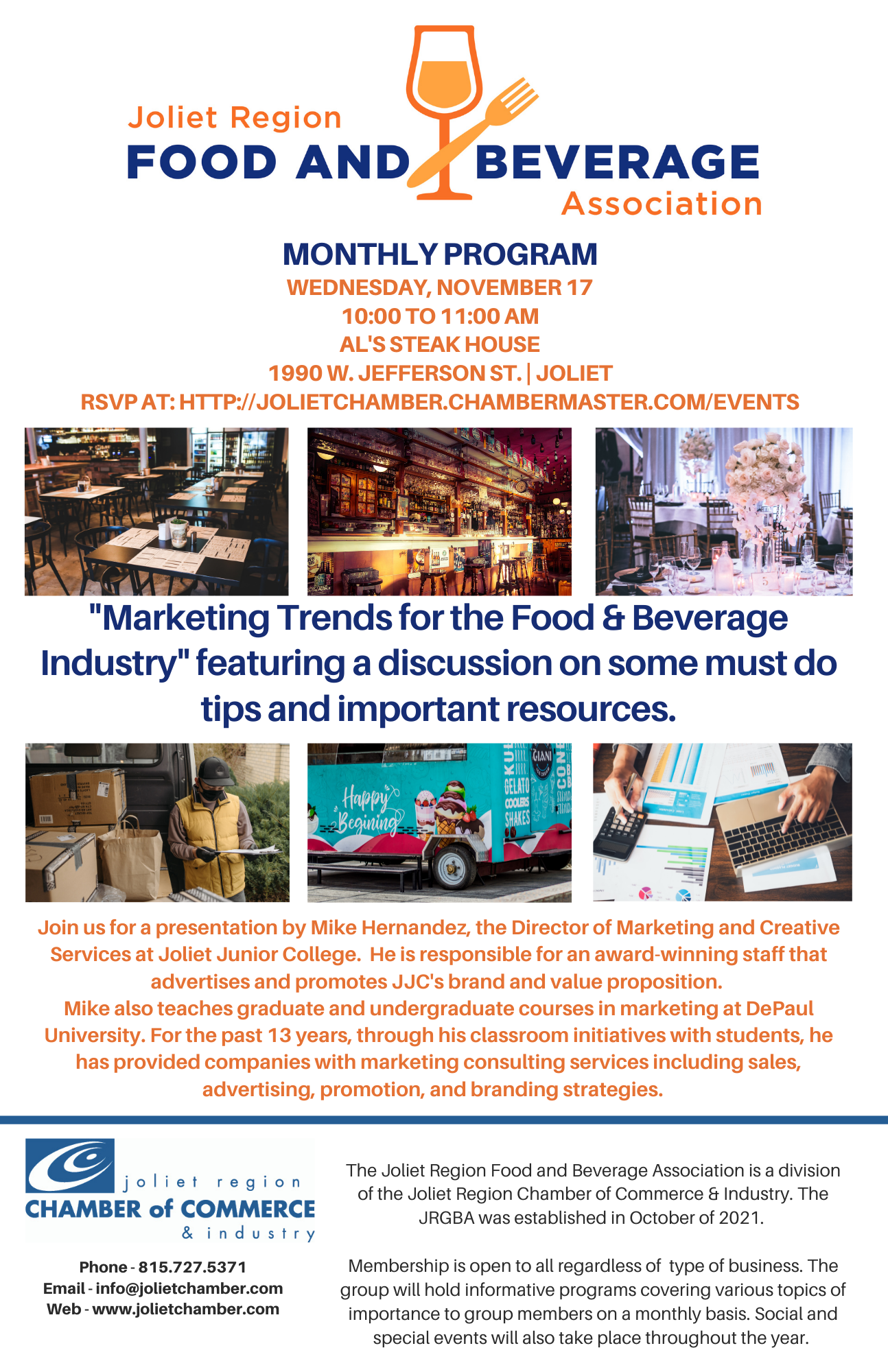 BECOME A MEMBER
If you are interested in joining The Joliet Region Food and Beverage Association (JRFBA) download our membership form below and mail to:
Joliet Region Food & Beverage Association
116 N. Chicago Street
Suite 110
Joliet, IL. 60432