The Joliet Region Food and Beverage Association (JRFBA) has been established after interest surfaced about forming a strong and unified voice from the food and beverage industry in the Joliet region due to the devastating impact of the COVID-19 pandemic.
The mission of the JRFBA is to bring leaders from the food and beverage industry together to collaborate, share best practices, advocate for industry needs and priorities, and drive economic growth. The JRFBA believes that a growing and innovative food and beverage industry is vital to a prosperous Joliet region.
Chamber leaders began meeting with the group after the first of the year and have been meeting since then to finalize the overall goals and impact of their vision. The JRFBA will be open to chamber members and non-members just like current sub-group structures. A board of directors will meet on a monthly basis to ensure the mission of the group is being carried out through various programs and events for their members.
As the mission states, the main areas of focus for the newly created group will collaboration amongst owners and managers, the sharing of best practices within the industry, advocacy, and assisting with ensuring economic growth
"All of those involved in running an establishment know quite well both the challenges and enjoyment that come with being in the industry. This group will bring individuals together to form bonds, use our resources to tackle tough issues, unleash talents, and support all in away that we can collectively rise to the top of our profession."

– Tom Grotovsky
The Great American Bagel and The Unforgettable Chef©.
The Joliet Region Food and Beverage Association is a division of the Joliet Region Chamber of Commerce & Industry. The JRFBA was established in October of 2021. Membership is open to all regardless of type of business. The group will hold informative programs covering various topics of importance to group members on a monthly basis. Social and special events will also take place throughout the year.
Hospital Meal Program Information
News Release
Contact:
Mike Paone, Executive Vice President
815.727.5373
mpaone@jolietchamber.com
For Immediate Release
Joliet Region Food & Beverage Association Aid for Hospital Staff
Joliet, IL. – December 13, 2021 – The Joliet Region Food & Beverage Association (JRFBA), a division of the Joliet Region Chamber of Commerce & Industry is eager to announce that the JRFBA will be kicking off a campaign to gather meal donations for hospital staff at Saint Joseph Medical Center and Silver Cross Hospital beginning Monday, January 17, 2022.
As the Omicron variant has overwhelmed the local hospital system, the JRFBA leadership felt that the time was right to give back to the doctors, nurses, and support staff that take care of our community. This effort needs to heighten the awareness of just how overwhelmed staff is and how we can come together as all had done in 2020 and 2021 to show appreciation of our healthcare workers.
"The stress level is high at both facilities and the situation of an already reduced workforce has not helped matters at all," remarked JRFBA Chairman George Daskalakis of Al's Steak House. "In the absence of an in-person program for the month of January, we still wanted to coordinate a program that our members can take part in," said Daskalakis who has committed to meals on day number one.
Restaurants are welcome to donate, businesses are welcome to purchase meals or gift cards that can go towards the purchase of meals from chamber member restaurants, and citizens may also participate by doing the same. Silver Cross Hospital already has a meal chain website established ( www.mealtrain.com/trains/3gq4g8 ). The chamber office will be working to coordinate meals sent to Saint Joseph Medical Center through a google doc web page:
(https://docs.google.com/spreadsheets/d/1g0nVO3Ae3SR0sdytWD2APdefMldNm0dVuFs2jAmtwtE/edit?usp=sharing)
The goal is to provide fifty meals a day through at least the end of January. Contact Mike Paone at the Joliet Region Chamber of Commerce & Industry at (815) 727-5373 or via email at mpaone@jolietchamber.com for more information and/or for assistance in coordinating a meal donation.
# # #
The Joliet Region Chamber of Commerce & Industry is the largest Chamber in Will County and one of the largest and most active Chambers of Commerce in Illinois representing nearly 1,000 member businesses and organizations from a wide variety of categories. The Chamber carries out its mission by advocating in the interest of business and providing opportunities for committee work, networking, promotion, and continuing professional development.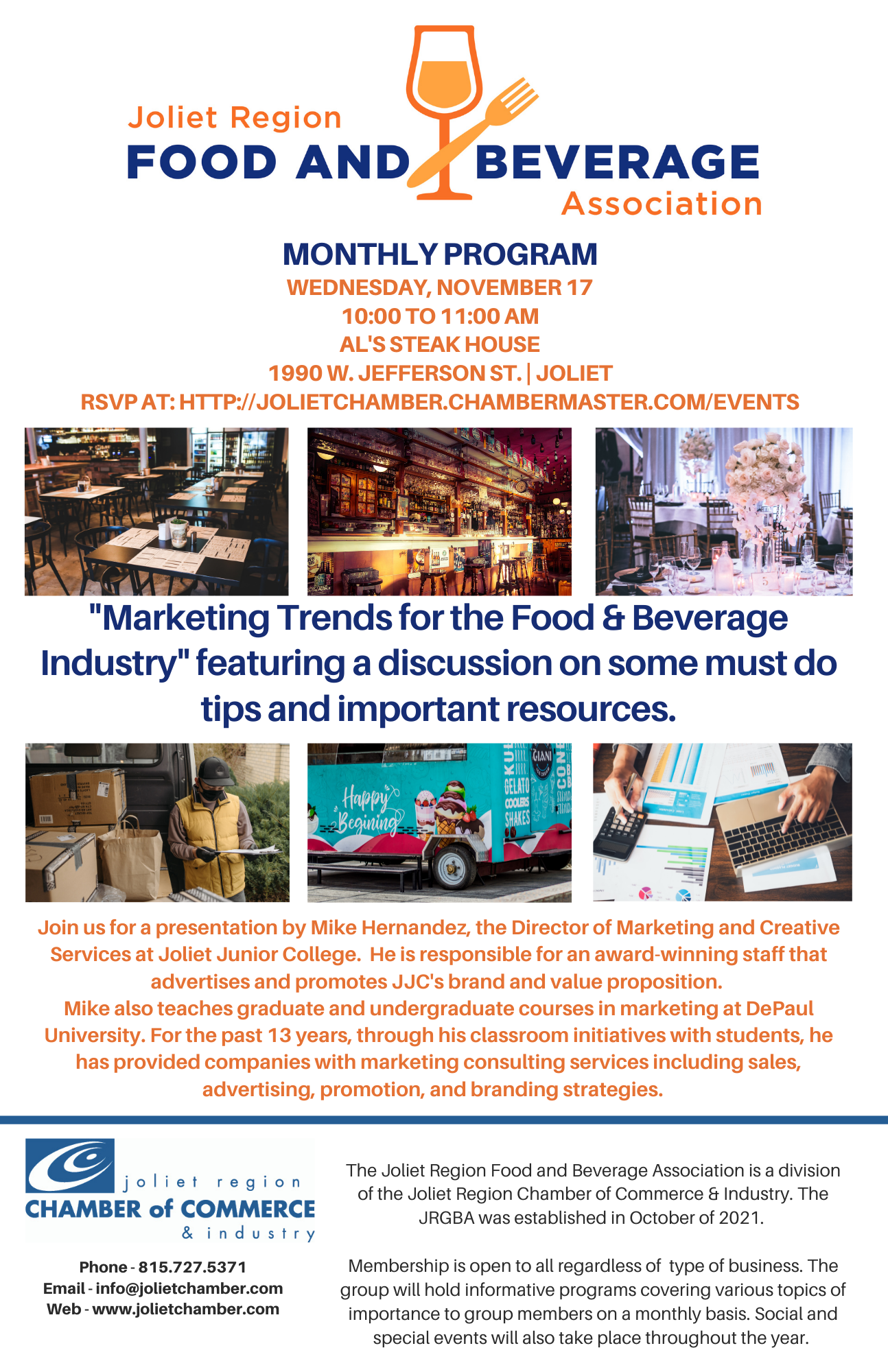 BECOME A MEMBER
If you are interested in joining The Joliet Region Food and Beverage Association (JRFBA) download our membership form below and mail to:
Joliet Region Food & Beverage Association
116 N. Chicago Street
Suite 110
Joliet, IL. 60432