Joliet, IL. – September 16, 2019 – Alianza De Negocios, a division of the Joliet Region Chamber of Commerce & Industry, filled the streets of downtown Joliet with their Fiesta En La Calle festival on Saturday, September 14th. Live music, street vendors, and an amazing food court were just some of the many features lining Chicago and Clinton streets. The weather provided just about a perfect day for this fourth annual "Party in the Street," bringing approximately nine thousand people to historic downtown Joliet.
Fiesta En La Calle was created in conjunction with D-Arcy Buick-GMC to help celebrate Hispanic Heritage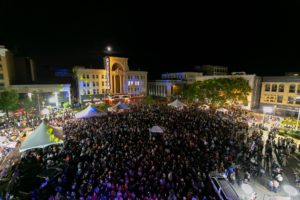 Month and benefit the Spanish Community Center of Joliet. The success of this event was driven by the hard work, dedication, and planning from the members of the Fiesta En La Calle committee. The committee was led by Alianza's Chairperson, Rosie Verdin of the Illinois Housing Development Authority. Assisting the Alianza De Negocios Board of Directors were Monica Bibian-Del Toro of D'Arcy Automobiles and Nancy Caballero-Borunda from BMO Harris Bank, N.A. "Both the committee and board should be commended for their efforts to make sure this year was a tremendous success," stated Chamber President, Mary Jaworski.
"We are grateful for the support of our sponsors, partners and committee who made this event possible for Joliet. Fiesta en la Calle does more than bring thousands of people to downtown for one day of fun. It helps impact our community for days, months and years to come for those individuals that receive assistance from the Spanish Community Center and high school students that are awarded college scholarships," shares festival co-chair, Rosie Verdin.
In addition to the Spanish Community Center, festival proceeds also help fund the Alianza de Negocios Scholarship Fund that was established in 2017. The fund awards $2,000.00 scholarship to two students at each of the three Joliet High School Campuses: Joliet West High School, Joliet Central High School, and Joliet Catholic Academy. Alianza launched the scholarship fund to assist all graduating seniors in furthering their post-secondary education at either a two or four year, accredited college or university or vocational/trade school. Students can obtain more information about this annual scholarship from the guidance counselor at their school.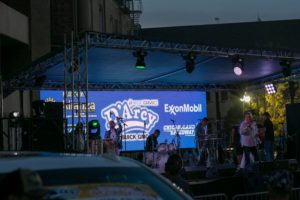 At this year's festival, D'Arcy Buick-GMC was again the grand presenting sponsor. Additional support was received from numerous businesses and organizations, including ExxonMobil and Chicagoland Speedway as the entertainment sponsors, Hawk Auto was the food court sponsor, Midland States Bank at the
VIP Sponsor, First Midwest Bank and NuMark Credit Union as beer tent sponsors, First Choice Temp Services as hospitality sponsor, and Abri Credit Union as the koozie sponsor.
Fiesta En La Calle was highlighted by local and internationally acclaimed bands such as Horoscopos de Durango, Reino Norteno & Love Secreto. A Kids Zone sponsored by Nicor Gas offered games, face painting, and other activities for this family event that is sure to be remembered and talked about for months to follow.
We look forward to the next party and invite you and your business to reach out to the chamber for involvement not only concerning this event, but the full scope of Chamber programs and events. For more information call the Joliet Region Chamber of Commerce & Industry at 815.727.5371 or visit www.jolietchamber.com