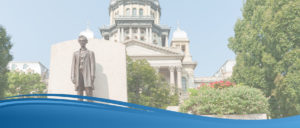 As everyone likely knows by now, we've hit a near record Government shutdown and the end may not be in sight, depending on new negotiations. As of today (January 11) we're at 21 days and although it is not a full shutdown, it does affect the Departments of Homeland Security, Agriculture, Food & Drug, Interior, Transportation, and Public Housing. Airport security, food stamps, garbage at parks and monuments, paychecks (Friday 1/11), federal court cases, HUD renewal contracts with building owners, and tax refunds have all been affected. Tax refunds have been mentioned to be possibly coming out on time as of right now, but all remains to be seen.
The 101st General Assembly in Springfield will begin with the largest majority in the House of Representatives since Speaker Madigan has taken his seat. A total of 74 Democrats and 44 Republicans will be in the House, with 40 Democrats and 19 Republicans in the Senate meaning both maintain a Democrat super-majority. A total of 46 new legislators all together will occupy Springfield when the new session begins.
We'll be keeping a close eye on a number of issues as the year begins on the Federal, State, and local levels. Please contact the Chamber if you have any issues facing your organization or industry. We will continue to keep transportation and infrastructure as our main target. Additional issues will include minimum wage, gaming expansion, recreational marijuana, income tax, and workplace issues. A number of these issues seem to have the green light with Democrat control in the Governor's office, Senate, and House so we'll want to make sure the business community is represented as things get ironed out at least. As always, we'll be concerned too with funding for education, unfunded pension liability, and bill backlogs.
Finally, our Government Affairs committee looks to offer great programming again this year with a number of luncheons featuring City Council candidates, Legislator forums, and timely issues. Maybe even an added new program. We will be coordinating a Springfield Drive-Down in May and a Washington DC Fly-In around the beginning of October.
It should be an interesting first half of the year, so please feel free to share your thoughts with us!