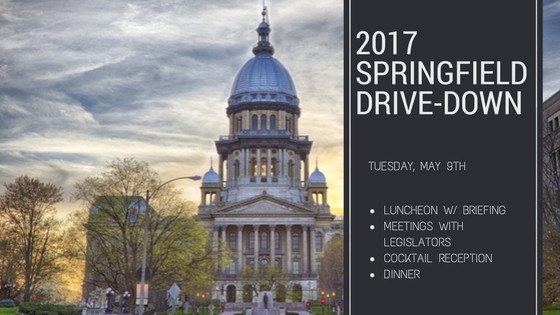 Joliet, IL. – May 8, 2017 – The Joliet Region Chamber of Commerce & Industry will travel to Springfield, Illinois on Tuesday, May 9 to meet with Governor Bruce Rauner and the leaders of both the Illinois Senate and House of Representatives, in addition to local Senators and Representatives to discuss several issues of importance to the Joliet Region.
Fifteen Chamber members will discuss mainly the State budget and how that situation is affecting so many businesses, education institutions, and social service agencies. In addition, topics such as transportation, education funding, pensions, workers' compensation, taxes, minimum wage, gaming, and employment law will all be brought up during the conversations.
The Springfield drive-down day is hosted by the Chamber Legislative committee and sponsored by AT&T and CITGO.
Please contact the Chamber office at 815.727.5371 or look them up on the web at www.jolietchamber.com to find out more about their advocacy efforts, programs, and events.