Joliet Area Young Professionals Name Young Professionals of the Year
State Senator. Mayor. Radio Personality. The list of the Joliet Area Young Professionals past recipients of the Young Professional of the Year award is a who's who of the area's most successful citizens. The two recipients this year are certainly no exceptions.
The Joliet Area Young Professionals (JAYP), a division of the Joliet Region Chamber of Commerce & Industry whose mission is to serve professionals ages 21 to 40 through networking, professional development, and community service programs, are happy to announce that Mr. Quinn Adamowski and Mr. Greg Peerbolte were awarded on the evening of December 4th during the JAYP Annual Dinner as the group celebrates 15 years.
Quinn Adamowski is an educator and serves as the Associate Principal of Lincoln School, an alternative school for at-risk students in Will County. He was elected to the District 86 School Board in 2015 and currently serves as Vice-President. He is a member of the Joliet Historic Preservation Commission and is President of his neighborhood organization, CAPA. Adamowski serves as Vice President of Joliet Area Historical Museum Board and Co-Chair of the Old Joliet Prison Preservation Coalition. He is a member of the Community Services Council of Will County and Will County Take Back the Night.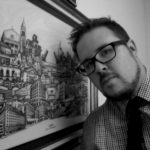 Greg Peerbolte is executive director of the Joliet Area Historical Museum and its Old Joliet Prison Historic Site initiative. He currently serves as Vice-Chairman of the Board of Directors of the Heritage Corridor Convention & Visitors Bureau and Cornerstone Services, Inc. Additionally, he is an ex-officio Historic Preservation Commissioner for the City of Joliet. Peerbolte has authored two books and has lectured at the Chicago Architecture Foundation. He is the Executive Producer of the documentary film "Eight Minutes in August: The Plainfield Tornado of 1990" and is producing a true crime podcast entitled "The Spectator: Who Killed Molly Zelko?"
Award presentations took place along with a traditional "roast" of the recipients during the JAYP Annual Dinner on Tuesday, December 4 at the Holiday Inn & Rock Run Convention Center in Joliet.
The Young Professional of the Year award recognizes a JAYP/Chamber member who has made outstanding contributions to their profession and to the community during the early years of their career. The recipient of the Young Professional of the Year Award is based upon the following criteria: someone who upholds the values of the Joliet Area Young Professionals, is a voice for young professionals through communicating and exchanging ideas, educates others from different spectrums of serving the public, unselfishly volunteers their services to local boards and commissions, is a good friend to the community, and is able to set a good example for future young professionals.
For more information about the JAYP, please contact Mike Paone at the Joliet Chamber office – 815.727.5373 or mpaone@jolietchamber.com