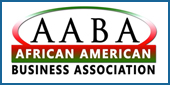 It is with great pleasure that we would like to invite all members of the Joliet area community to the 1st Celebration and Annual Dinner for the African American Business Association. The African American Business Association is a collaboration and vision that began in August of 2017 as a division of the Joliet Region Chamber of Commerce & Industry. In celebration of the first year in existence, a night of awards, discussion, and camaraderie has been planned.
The Mission of the this group is as follows: "To advocate for the creation, growth, and general welfare of African American businesses throughout the Joliet Region, while fostering economic development in the African American communities."
The evening will feature a procurement panel discussion and a keynote address from the Illinois Black Chamber of Commerce President Larry Ivory. In addition, the Law Office of Vincent F. Cornelius will receive the Business of the Year Award. Finally, a Trailblazer Award will be bestowed upon Ms. Oriole Powell, Mr. Percy Conway, and Mr. George L. Tyus.
Please join us on Tuesday, October 30 at the Jacob Henry Victorian Ballroom as the African American Business Association celebrates a successful first year and honors a number of worthy award recipients.
The event will start with a cocktail reception at 5:30 PM, followed by dinner, panel discussion, and then the program and awards. The cost to attend is $35 and reservations are required. For more information or to register, please contact the Joliet Region Chamber of Commerce & Industry at 815.727.5371 or www.jolietchamber.com.