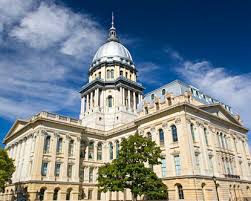 The Washington D.C. August recess for Congress allowed us some quality time to meet with Congressman Bill Foster during our August Legislative Committee meeting.  In that meeting, we discussed the issue of Transportation Funding and the possibility of a gas tax increase. In addition, we talked about Tariffs, Internet Sales Tax Collection, and the likeliness of Continuing Resolutions to get through the election cycle so that we avoid a government shutdown.
In the month of August the Chamber hosted Will County CED President/CEO John Greuling at our monthly luncheon to present on the topic of the I80 Coalition.  John's presentation dived into the serious safety issues that the current condition of the roadway poses and what plans have been devised to address these issues.  The coalition (in which the Chamber is a part of) seeks to provide funding sources and have a completed project much sooner than IDOT projections. Check out the presentation on our web site.
On August 14th there was an open house hosted for the Houbolt Road extension project that will bring a bridge over the Des Plaines River from I80 to the intermodal area and add a diverging diamond interchange at I80. The project has a target start of later this year or beginning of 2019 and anticipated 24 month construction duration.
Governor Rauner has been busy with signing and vetoing bills passed in the recent legislative session over the last few weeks.  Here are some notable House and Senate bills:
HB 5210 – signed into law to reduce burdensome licensing requirements for real estate professionals
SB 904 – vetoed as it proposed changes to the Workers' Comp Act
SB 43 – signed into law (Sponsored by Senator Jennifer Bertino Tarrant) to expand the small business loan program
SB 2436 – signed into law to repeal the ban on sale of alcohol within 100 feet of religious organizations, schools, and hospitals.  In the past, the general assembly would have to hear requests to overturn and now with this bill local liquor commissions now have the authority to review cases.
SB 3527 – signed into law to expand the River Edge Redevelopment Zone
Talk has begun again on the expansion of gambling in Illinois as a joint House and Senate committee hearing took place a few weeks ago.  The expansion bill would add six new casinos, added gaming positons at existing casinos, and slot machines at horse racing tracks.  A COGFA report has shown that receipts for the existing casinos have declined every year for the past six years. New casinos would only generate $12 million annually with 21,000 new gaming positions. The Chamber has opposed this expansion bill.
On the Federal side, we are gathering more information about what is being called the Jobs Act 3.0.  The act would modernize rules add regulations to enable entrepreneurs to start businesses and provide conditions to grow them.
Also being watched is H.R. 795. The Employer Participation in Student Loan Assistance Act allows up to $5,250 of employer contributions toward student loan payments for an employee to be tax exempt. This would allow small businesses to compete on a level playing field to hire and retain talent.
Finally, on October 11th the Chamber will be partnering with the Chicago Southland Chamber, the Illinois Chamber, and the Small Business Advocacy Council to host a Legislative Summit moderated by Todd Maisch, President & CEO of the Illinois Chamber of Commerce.  A total of nearly 20 local legislators have been invited to this breakfast at Moraine Valley Community College.  Watch for registration information.