The Joliet Re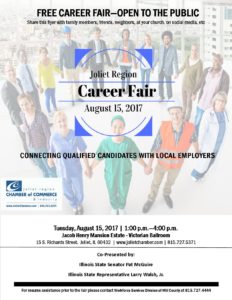 gion Chamber of Commerce & Industry will be hosting their second annual Career Fair on Tuesday, August 15 with an anticipated forty plus organizations participating. "The goal of the Career Fair is to highlight the number of quality jobs available in the Joliet Region. There are a staggering amount of open positions locally," stated Chamber President Mary Jaworski.
New this year to the Career Fair is the support of Senator Pat McGuire, 43rd District, and Representative Larry Walsh, Jr., 86th District, as co-presenters. The Chamber has partnered with both of the elected officials as we agree that a variety of excellent opportunities exist in their respective districts. Senator McGuire and Representative Walsh, Jr. will aid in our efforts to drive worthy job seekers to this event.
Individuals looking for a new career, their first job, or maybe a re-entry into the workforce will all be the targets for this event. We invite all to attend and help spread the word throughout the Joliet Region and beyond. Remember to be prepared and dress for success!
The Career Fair will take place at the Jacob Henry Victorian Ballroom, located at 15 S. Richards Street in Joliet from 1:00 to 4:00 PM. This is open to the public and resume assistance, interview tips, and on-site interviews will all be available during this time. For more information about this event regarding employers present, please follow our web site at www.jolietchamber.com/events/job-fair/. Interested organizations can call us at 815.727.5371 for information on participating or email dblake@jolietchamber.com to speak with Danielle Blake.