Joliet, IL. – June 14, 2017 – The sixth annual New Orleans North (NON) festival drew a record number of attendees to downtown Joliet on Friday, June 9th. Six thousand plus people were in attendance, making this year's festival the largest since inception in 2012. New Orleans North is hosted annually by the Joliet Region Chamber of Commerce & Industry with support from the business community including presenting event sponsor Harrah's Joliet Casino & Hotel.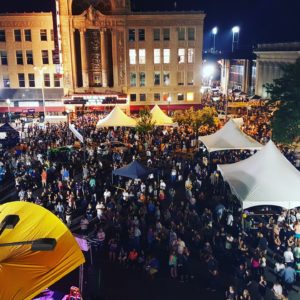 To mirror New Orleans' atmosphere, festival goers were entertained throughout the evening by street performers including stilt walkers, acrobats, mime charades, magic and more. Live music could be found on the main stage located in Hawk Square. Joliet's very own, The Big Lagniappe, took the stage at 5:00 p.m. followed by New Orleans native Paul Sanchez and the Rolling Roadshow Band. Music filled the air the entire evening as partygoers danced the night away.
New to the festival this year was Courtside Alley, where one could enjoy a secluded alley hidden behind purple curtains that offered cabaret tables to lean against. Attendees were treated to music from a small acoustic stage featuring Zak Hornung as well as The Hepkats. Both bands are local performers in the Joliet area.
"The New Orleans inspired menus in the D'Arcy Food Court, cold drinks and beautiful weather only added to the success of the festival," stated Mary Jaworski, President of the Joliet Chamber. "We look forward to hosting this event each year because it brings people into downtown Joliet and they really enjoy themselves."
Additional information about New Orleans North and the programs of the Chamber can be found at www.jolietchamber.com or by calling (815) 727-5371.
"We look forward to hosting this event each year because it brings people into downtown Joliet and they really enjoy themselves."
Mary Jaworski