The Chamber Consumer/Spring Expo is the largest of its kind in the Joliet Area. This event is a low cost opportunity and tremendous way to get your business or organization name out in the community.
Participants have a choice to exhibit on one or both days (Friday and Saturday offered). One of the many benefits of participation is the built-in mall traffic. The mall estimate is upwards of 10,000 visitors a day during the two day show.
Bottom line, this Expo is a great opportunity to meet thousands of potentially new clients and is an affordable investment.
Registration:
Registration begins in October and a discount is offered if completed by the end of the year.
The 2019 Expo will take place on Friday, February 22 and Saturday, February 23 at the Louis Joliet Mall from 10:00 AM to 9:00 PM on both days. Click here for more information on the Career Fair that same weekend.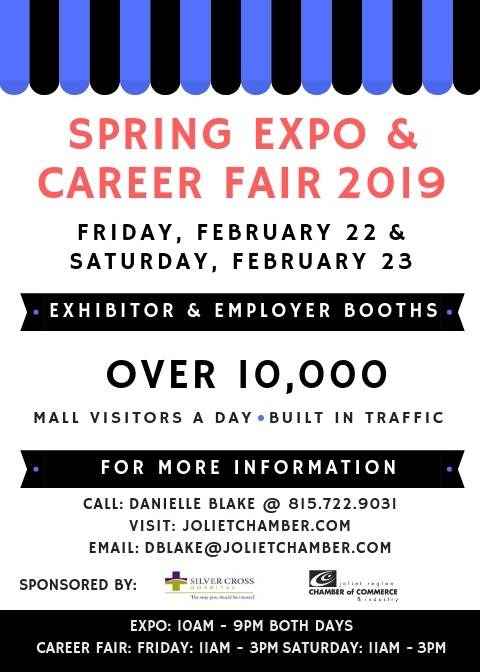 Current List of Participants
Americans for Fair Taxation
Bath Planet
Carter Realty Group
City of Joliet
Clique Nutrition
Eckankar
Edward Jones – Tanice Fort
Foot and Ankle Health Care
Future Diagnostics
Joliet Junior College
Joliet Park District
Joliet Police Department
Joliet Public Library
Joliet Ravens Football
Joliet Slammers
Joliet Steelers Youth Football
Lattitude 41
Mary Kay
Medulla LLC/Chiro One
My Smiles Joliet
Physicians of Immediate Care
Plainfield Park District
Popus Gourmet Popcorn
Rasmussen College
River One Health Wellness
Senior Reverse Mortgage
Shelf Genie of Chicago South
Shining Smiles
Silver Cross Hospital
The Joliet Herald News
Trader Magazine
University of Phoenix Chicago Campus
Will County Center for Community Concerns
Will County State's Attorney
Window Works
World Champion Tae Kwon Do
For Sponsorship information contact the Joliet Chamber at (815) 727-5371
Sponsorship Opportunities available include:
Presenting

Roving Entertainment

Booth

Volunteer

Program

Signage

Hospitality Suite

Courtside

Wing


Map
For Sponsorship information contact the Joliet Chamber at (815) 727-5371