The African American Business Association is a collaboration and vision that has now come to fruition between the Chamber and community members. These individuals from the community approached the Chamber with a need for the formation of a business focused group to serve African American owners, managers, employees, and individuals.
The overall focus of the new group will cover four main topics including Business & Economic Development, Job Readiness, Professional Development, and Networking / Special Events. The main drive is to open new doors, develop future entrepreneurs, strengthen skills, and expand networks.
We strongly believe that the African American Business Association will carry on the tradition of respected sub-groups and deliver quality programs and events. The Mission of the this group is as follows: "To advocate for the creation, growth, and general welfare of African American businesses throughout the Joliet Region, while fostering economic development in the African American communities."
We will host a monthly (excluding December) Business After Hours networking event on the THIRD Tuesday of each month from 5:00 to 7:00 PM at a local organization. Check the Chamber calendar for updates
Connect with us on Facebook and LinkedIn
10 Resources for Black-Owned Businesses
Black Business Association
The Los Angeles-based Black Business Association (BBA), which was founded in 1970, advocates for policies to "improve access to contracting and procurement opportunities" in both the public and private sectors. This non-profit has offered networking, training and more to its members over the years.
Black Founders
The organization Black Founders, established in 2011, aims to "empower entrepreneurs and provide founders with access to advice, mentorship, and funding." Black Founders differentiates itself from other organizations with its emphasis on technology entrepreneurship, as Black entrepreneurs have historically been underrepresented in the VC-backed tech startup landscape. During the past few years, Black Founders has also worked on community building by hosting networking events and hackathons.
Black-owned business directories
Several websites and organizations have started their own Black-owned business directories, including well-sourced sites such as Blax, Official Black Wall Street and Support Black Owned. These sites make it easy to search cities and states so consumers can find Black-owned auto services, beauty suppliers, fitness centers, restaurants, professional services and more. Additionally, there are locally focused directories that focus on specific U.S. cities as well, including for Detriot, Kansas City, New York and Seattle.
Black Owned Everything
Black Owned Everything takes a more modern approach to the idea of Black-owned business directories by curating photos and products from Black-owned businesses via a popular Instagram account. Businesses that want to be featured can register with the service and then photos from their Instagram may be promoted for free to a much larger audience. Zerina Akers, a prominent costume designer and the founder of the directory, told CFDA that thousands of brands have requested to be featured.
Coalition to Back Black Businesses
The recently launched Coalition to Back Black Businesses — spearheaded by American Express, the U.S. Chamber of Commerce Foundation, the National Black Chamber of Commerce, National Business League, U.S. Black Chambers and Walker's Legacy — aims to provide $10 million in grants, training and resources to Black-owned businesses through 2023. The Coalition will award $5,000 grants to more than 280 Black-owned businesses every fall between 2020 and 2023. Eligible businesses must employ between 3 and 20 people, be located in an "economically vulnerable community" and have been financially hurt by COVID-19 disruptions. On top of the initial grants, the Coalition will also offer opportunities for mentorship, disperse more funding to "promising grantees" and create an online hub of resources for Black-owned business owners.
Minority Business Development Agency
The Minority Business Development Agency (MBDA), part of the U.S. Department of Commerce, has played an important role for years in helping Black-owned businesses by providing guidance on how to get funding, compete for contracts and make products export-ready. MBDA Business Centers are located around the country in cities with large numbers of minority-owned businesses.
National Minority Supplier Development Council
The National Minority Supplier Development Council (NMSDC), the most important certification organization for minority-owned businesses, helps connect Black-owned businesses with more opportunities and partnerships. The NMSDC assists its more than 12,000 certified minority-owned businesses by helping match them with large corporations that wish to increase supplier diversity.
National Urban League
The National Urban League, a civil rights and urban advocacy organization that was founded in 1910, has 90 affiliates serving 300 communities across the country. The organization offers a variety of services to help those who need a hand, including those focused on helping minority entrepreneurs who run their businesses as sole proprietors. National Urban League's Entrepreneurship Centers are located in 12 cities, including Atlanta, Chicago, Houston, Los Angeles and Philadelphia. The organization said these centers provided "13,600 hours of counseling and 25,617 hours of training" to entrepreneurs in 2018.
Small Business Administration 8(a) Business Development
The SBA's 8(a) program was created to "provide a level playing field for small businesses owned by socially and economically disadvantaged" people. According to the program's guidelines, any business that is 51% or more Black-owned has the potential to compete for lucrative set-aside government contracts, receive help at navigating federal contracts and get training. To take part in the program, businesses must first get certified by the SBA.
U.S. Black Chambers
The U.S. Black Chambers (USBC) acts as an umbrella organization that works to support more than 130 African American chambers of commerce and business organizations in the U.S. Local African American chambers promote and advocate for Black-owned businesses, while the USBC works at a national level to highlight Black-owned companies with a business directory, education webinars, and informative original content like podcasts.
8 Black-Owned Business Directories
These eight business directories seek to increase the visibility of Black-owned small businesses and help conscious consumers connect with minority-owned brands. If you're a Black business owner, it's worthwhile to list your company on these sites to help new customers find and frequent your venture.
Black Business Green Book
Black Business Green Book was launched by the civil rights advocacy group Color of Change to support Black-owned businesses during the COVID-19 pandemic. Black Business Green Book offers ways to browse businesses in many different categories, including home goods, fashion, health and wellness, books and art. There are different filters for shopping businesses in your state or online-only retailers. One of the great features of this directory is that submitting a business is easy and can even be done by your customers by filling out a form here.
Shop Black Owned
Shop Black Owned is a business directory specific to eight cities at the moment, with more to come: Boston, Charlotte, Chicago, Dallas, Los Angeles, New York City, the San Francisco Bay Area and Seattle. Shop Black Owned is a free, crowdsourced and map-based tool that makes it easy to find a Black-owned business in your immediate area. There are more than 1000 businesses listed and more are being added every day. To get your business listed, or to request your city be added, send an email to shopblackowned@coastapp.com.
WeBuyBlack
While some Black-owned small business directories were founded recently to support Black merchants during COVID, WeBuyBlack has been around since 2015. "Today, it's the largest e-marketplace for Black-owned businesses," reports Fast Company. What's great about this directory is it shows customers how to make the switch from big brands to Black-owned brands for everyday consumer goods, such as cleaning supplies and toothpaste. It's also got lots of deals on free and fast shipping.
EatOkra
EatOkra is a directory of Black-owned restaurants, featuring over 2,500 restaurants around the United States. Users can search by cuisine and location, and even order delivery—the app will connect you to GrubHub or DoorDash so you can seamlessly order from those listings. If you prefer to visit in-person, EatOkra will give you directions from your location or connect you to a ride-share service like Lyft. Listing on EatOkra is a great way for Black restaurateurs to reach new customers, earn more clicks on delivery platforms and boost their visibility.
Support Black Owned
The Support Black Owned directory has been around since 2012, generating many listings over the years. It offers both a website database and an app, as well as advertising options for Black-owned businesses and user reviews and ratings. Search by state, category or even country一Support Black Owned lists businesses in 30+ countries.
Official Black Wall Street
Official Black Wall Street is one of the largest business directories for Black-owned businesses, with over 5,000 listings in 10 countries. Through the app, business owners can create a listing with reviews, photos, directions and more. The app also alerts users when they're nearby a Black-owned business to help increase foot traffic.
Chez Nous Guide
Don't miss the beautifully designed Chez Nous Guide: "a volunteer-run inclusive and intersectional home for businesses, artists and organizations owned and run by historically marginalized people around the world and our allies." You can find businesses owned by women, LGBTQIA+ merchants and BIPOC entrepreneurs in major cities around the world. Search using several different filters, including category and place, or use the "go explore" button. This site includes more than 200 Black-owned businesses.
Black-Owned Brooklyn
Finally, Black-Owned Brooklyn was founded in 2018 by a husband-and-wife team to help elevate businesses in their community. While the directory only lists businesses that are based in Brooklyn, Black-Owned Brooklyn also features stories from founders and business owners that can be a great resource for other merchants.
CEO GALA
The African American Business Association of the Joliet Region Chamber of Commerce would like to invite you to our Inaugural Awards Gala.
The purpose of the banquet is to celebrate and recognize exceptional CEO's who demonstrate courage and perseverance in business while being a leader within the Will County-Joliet community.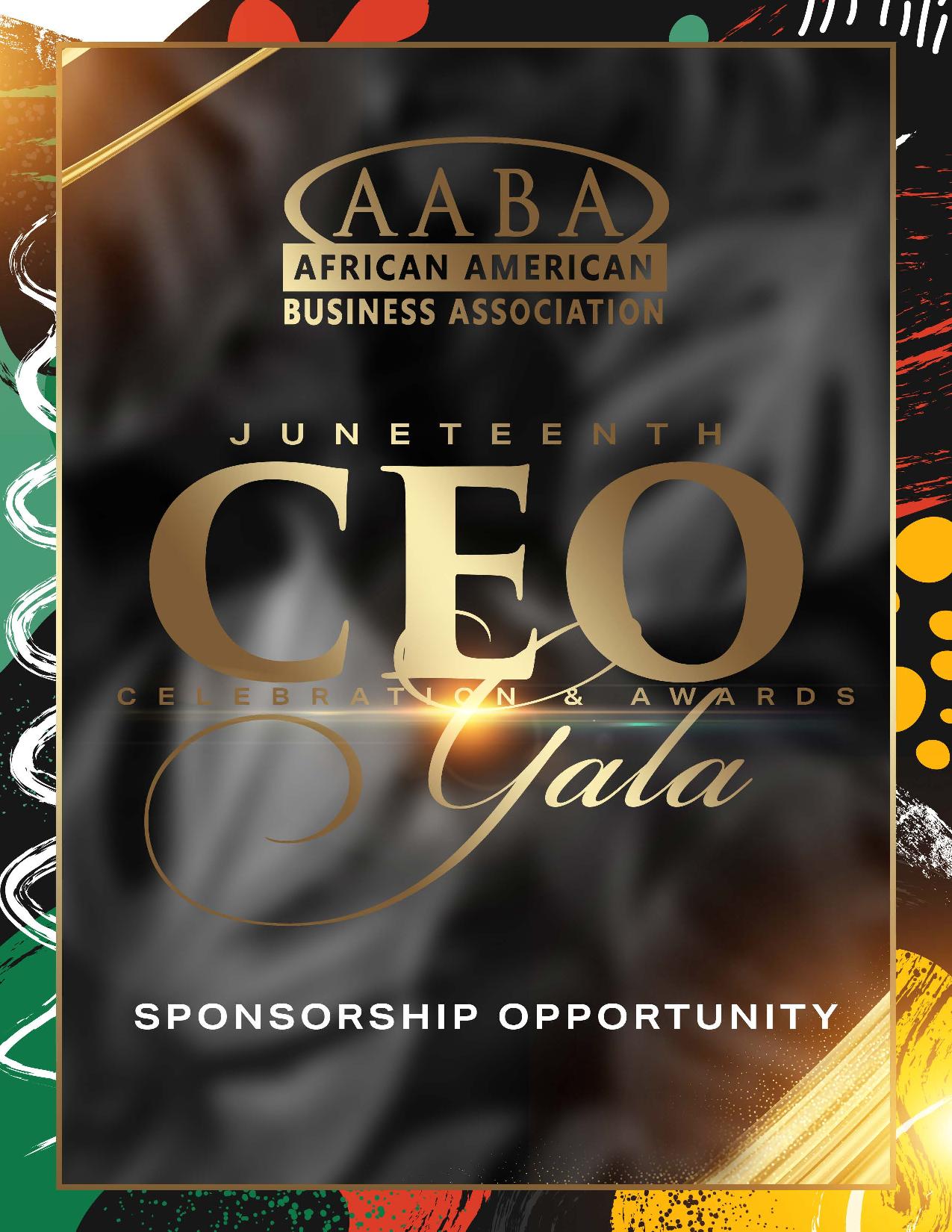 Episode 3 of the CEO Roundtable has been posted on our YouTube page. The most recent CEO Roundtable episode covered "Viral Marketing Through Advertisement and Social Media." The CEO panel included Jacqueline Horbrook, CEO and Founder, Black Christian Influencer and Jeremy Joyce, CEO and Founder, Black People Eats. 
The November 2021 CEO Roundtable featured a great conversation with State Farm Agent Howard Wright and Minor-Morris Funeral Home owner Terry Morris. A number of topics were covered and moderated by AABA board member Chris Parker.
AABA hosted a discussion about a grant fund Joliet Junior College received to provide workforce training opportunities. Learn about program benefits and career pathways with JJC employees and AABA Board Member Carmen Carter.
The African American Business Association is happy to announce that our Annual Awards will be presented in video format to honor our 2020 recipients. Please join us in congratulating Next Level Event Planning as our 2020 Business of the Year, Mr. Ferdinand Range as a Trailblazer Award Winner, and Mr. Howard Wright as a Trailblazer Award Winner!
The video will be released on social media and on this web page. Click on the image below to view the video in full. Thank you to our "Event" sponsor – Joliet Junior College, our Trailblazer Award sponsors – Joliet Area Historical Museum and Harrah's Joliet, our Business of the Year Award sponsors – State Representative Natalie Manley, Midland States Bank, and D'Arcy Buick GMC, and all of our Video Presentation sponsors.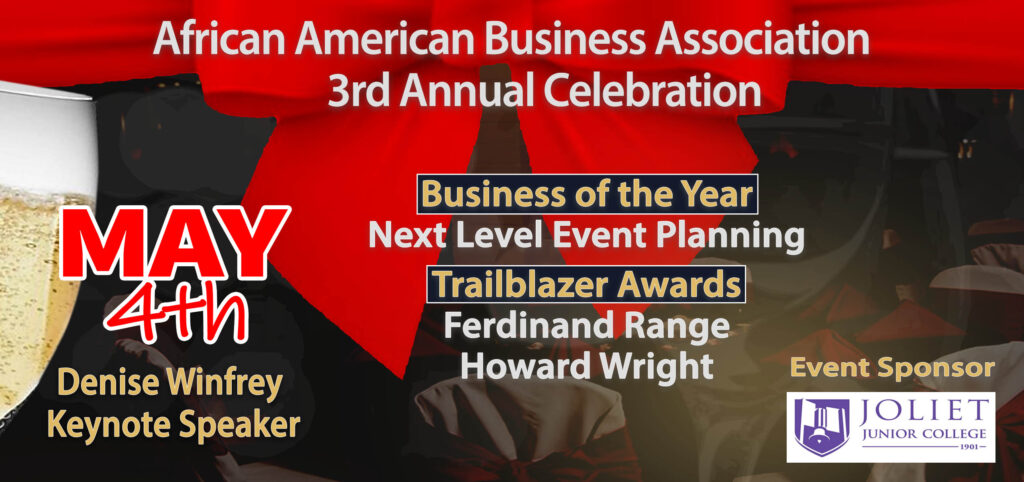 January 26, 2021 Video Conference: Update from SBA on PPP Funds, PPP Forgiveness, EIDL Program, and More
Forgivable Loan for those that adhere to expense rules – 2x average monthly payroll

Expanded allowable expenses
Easy one page forgiveness form for loans under $150,000
Ability to deduct expenses paid with PPP funds
Funds are not taxable as income
Restaurants and Hotels can qualify for 3x average monthly payroll
Opportunity for 2nd draw for those who received PPP funds in 2020
Full Video Recording by clicking on the button below
November 30, 2020 Video Conference: "I'm Supposed to do What?"
Tips for small business owners who are great at what they do, but no always sure about the "business" part of running a business. The information is brought to us by Annette Szobar of AMS Office Solutions/LegalShield. Annette has worked in the small business arena for over 20 years assisting small businesses with the tools they need to be successful.
Full Video Recording by clicking on the button below
September 17, 2020 Video Conference covering the Will County Small Business Grant Assistance Program
​Small businesses have experienced unprecedented disruptions and financial challenges due to the COVID-19 public health crisis. Will County recognizes its small businesses have struggled to pay bills, keep customers, and stay afloat while navigating through the uncertainties of this pandemic.
Will County has earmarked more than $24 million for a Small Business Assistance Grant Program to provide financial assistance to small businesses impacted by COVID-19 so they can maintain operations. Selected businesses may receive up to $15,000 in grant assistance
Full Video Recording by clicking on the button below
August 25, 2020 Video Conference with Rosalyn Putman from the U.S. Small Business Administration (SBA)
​Thank you to Rosalyn for sharing a wealth of information on the following: 
The Federal Government is the largest buyer of products and services in the US. The SBA has a variety of programs to help small businesses compete for these federal contracts. Is your business eligible for one of our contracting programs?
The Historically Underutilized Business Zone (HUBzone) Program allows federal contract set-asides for small businesses in economically depressed communities.
Eligibility and Program benefits will be covered
The 8(a) Business Development (BD) Program offers a broad scope of assistance to firms that are owned and controlled at least 51% socially and economically disadvantaged individual(s).
Program benefits: Training, Contracting opportunities, and Mentoring
Full Video Recording by clicking on the button below
July 22, 2020 Video Conference with Mark Ferguson from the U.S. Small Business Administration (SBA)
May 19, 2020 Video Conference with Matt Simpson, African American Business Development Manager from the Department of Commerce & Economic Opportunity
​Thank you to Matt from the DCEO Office of Minority Economic Empowerment for sharing information about the numerous resources they have to offer including: 
Advantage Illinois Loan Program
Advancing Development of Minority Entrepreneurship Program
Cannabis Social Equity Loan Fund
BEP Resources – Certification and Opportunities
Make sure to click the button below for the full video recording.
April 28, 2020 Video Conference with Kevin Lynch from Joliet Junior College Small Business Development Center (SBDC)
Thank you to Kevin from the JJC SBDC office for sharing information about the numerous resources they have to offer existing businesses and those looking to start soon. 
Here is a quick review of the session: Video Conferencing Notes-Kevin Lynch Small Business Adviser at JJC.
Make sure to click the button below for the full video recording.
Interested in Joining?
If you are interested in joining the following volunteers and promoting your business while aiding the chamber
Call or email
Michael J. Paone, IOM
Vice President
(815) 727-5371 -or- mpaone@jolietchamber.com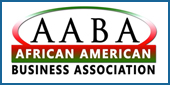 SIGN UP TO RECEIVE NEWS & UPDATES
BECOME A MEMBER
Interested in becoming a part of the African American Business Association?
Download a Membership Application
---
African American Business Association
---
Marching Into Mondays
Join AABA every last Monday of the month for this exciting new event called Marching Into Mondays. Come meet and greet business owners, discuss monthly goals, and hear a 15 minute power motivational speaker.
Get ready to march into the next month and meet your business goals head on!
Featured speaker: Michael Simelton, CEO, Housing Authority of Joliet
Monday, May 23 from 5:00 to 7:00 PM
It is Amazing
76 N. Chicago Street
Joliet, IL 60432