The African American Business Association is a collaboration and vision that has now come to fruition between the Chamber and community members. These individuals from the community approached the Chamber with a need for the formation of a business focused group to serve African American owners, managers, employees, and individuals.
The overall focus of the new group will cover four main topics including Business & Economic Development, Job Readiness, Professional Development, and Networking / Special Events. The main drive is to open new doors, develop future entrepreneurs, strengthen skills, and expand networks.
We strongly believe that the African American Business Association will carry on the tradition of respected sub-groups and deliver quality programs and events. The Mission of the this group is as follows: "To advocate for the creation, growth, and general welfare of African American businesses throughout the Joliet Region, while fostering economic development in the African American communities."
We will host a monthly (excluding December) Business After Hours networking event on the THIRD Tuesday of each month from 5:00 to 7:00 PM at a local organization. Check the Chamber calendar for updates
Connect with us on Facebook
Board of Directors
OFFICERS
Cornel Darden
Board Chair
Mike Clark
Board Vice Chair
Robert Porter
Treasurer
-Open-
Secretary
---
COMMITTEE CHAIRS
Willie Sellers
Professional Development
Burneva McCullum
Job Readiness
R. Dale Evans
Economic & Business Development
Shamill Muhammad
Events
---
MEMBER AT LARGE
Cathy Wells
Board Member
Marcus Mars
Board Member
Jennifer Jobe-Gavin
Board Member
Pastor Deddrick Perry
Board Member
Betty Washington
Board Member
-Open-
Board Member
-Open-
Board Member
Submit Your Business Information
We are compiling a list of all Black-owned businesses in the Joliet area. Please click the button below to bring up a form and we ask that you fill out as much information as possible.
Interested in Joining?
If you are interested in joining the following volunteers and promoting your business while aiding the chamber
Call or email
Michael J. Paone, IOM
Vice President
(815) 727-5371 -or- mpaone@jolietchamber.com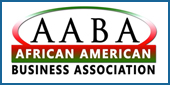 SIGN UP TO RECEIVE NEWS & UPDATES
BECOME A MEMBER
Interested in becoming a part of the African American Business Association?
Download a Membership Application
---
THANKS TO OUR SPONSORS FOR THE AUGUST 24th KICK OFF EVENT
Event Sponsor
Wild Tuna Sushi
---
Hors D'oeuvres Sponsors
City of Joliet
Minor-Morris Funeral Home
State Farm Agent Howard Wright
State Senator Pat McGuire
State Representative Larry Walsh, Jr.
O'Dekirk, Allred & Associates, LLC.
Chicagoland Transportation, LLC.
TransNational Payments
Casanova Information Services
---
Program Sponsor
Robert E. Hamilton Consulting Engineers, Inc.